Oh! What a floral feast this wedding was!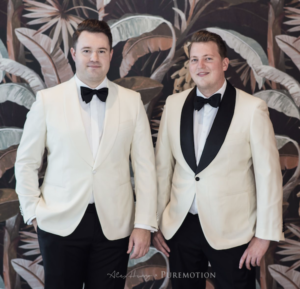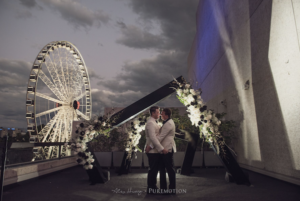 We were lucky enough o be the florals designer for Warrick and William's QAGOMA wedding, how exciting to be able to design florals next to art masterpieces!
THE CEREMONY The late afternoon ceremony was held on the rooftop of QPAC overlooking the wheel of Brisbane and the city backdrop. Bold black & white was highlighted with a custom made structure from Honeytub Event Hire and black velvet chairs from Valiant Events. We built a large white rose and black rose feature across the structure to frame them during the ceremony, highlight with branchy feature to soften the hard structure!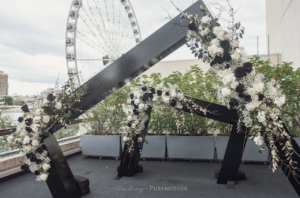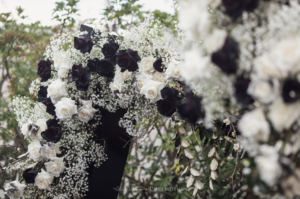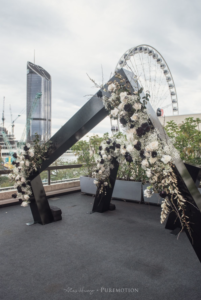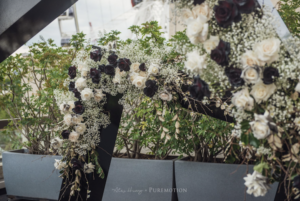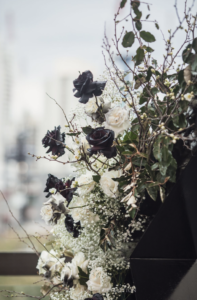 WEDDING PARTY The grooms ladies wore simple black dresses and to add to the frame we designed a small posy of nearly black roses and structural turtle leaves to give them something small to carry but to blend into the background also!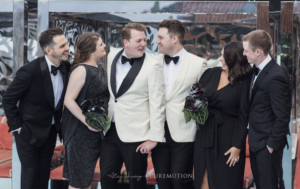 RECEPTION Moving onto the Epic reception held in the main space of  QAGOMA state art gallery Watermall. One extra long distinct long table was created using stunning herringbone tables with gold trim and accompanied with dove grey velvet chairs. The floral tablescape was a combination of sleek modern white pots with a delightful array of brightly coloured mixed flowers to contrast with the black and white ceremony flowers! Featuring giant alliums, turtle leaves, orchids, blossom branch and spray painted gold anthriums to add some shine and sparkle! Overflowing from the vases were massed of palest pink petals filling the centre of the table and dotted with candles from Celebrating in Style to complete the look.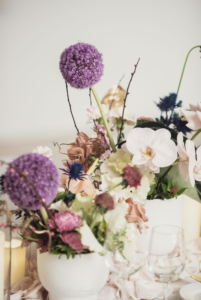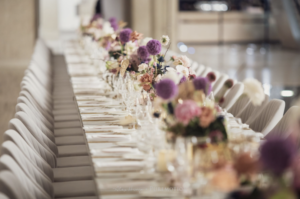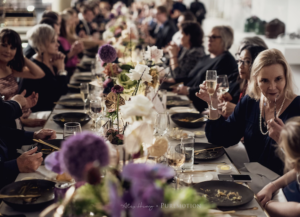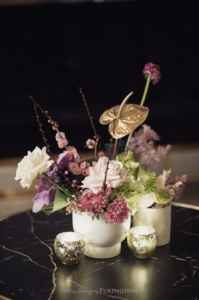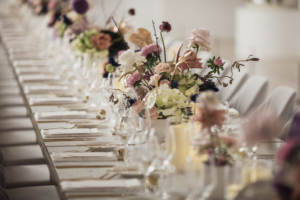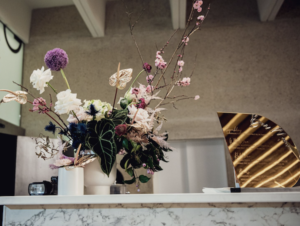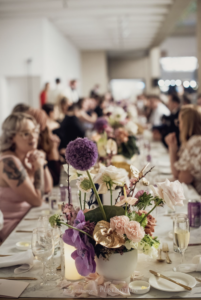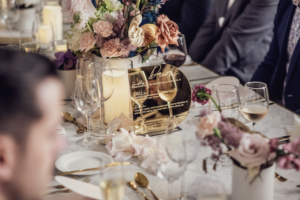 Warrick & Williams Wedding was also featured Theodore Magazine see the full store here…
WARRICK & WILLIAM QUINTESSENTIALLY THEM 
The Dream Team
Flowers – us! Bouquet Boutique
Photography Puremotion Photofilm
Celebrant Moore Celebrations 
Cake The Sweet Society
Videographer Cassie Ellen Films
Furniture Valiant Events
Stationery Laura Elizabeth Design
Makeup Twidale Studios