Oh! What a wedding! We were so thrilled to be Zofia's favourite florist for her BIG wedding and design, create and inspire!
Not only did we work with her and her best wedding planner (her Mum) on the wedding flower designs, we also designed amazing flowers for firstly their engagement party at Moda Portside and also her her stunning kitchen tea held at Rydges Southbank (I will add some images of the kitchen tea after all the wedding images so you all can have a sneak peek!)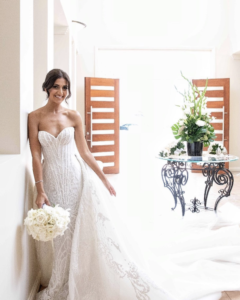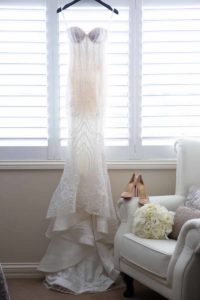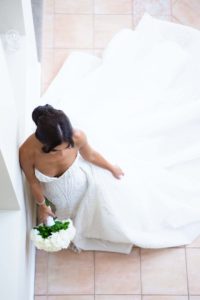 Well where to start with the flower brief … layered luxury is what I would call the style! Zofia was in love with classic looks with a touch of reflex roses, layered up hydrangea, paper like lisi and highlight of crisp white phalenopsis orchid, to break up the all white look we decided to add some softness, we paired the white flowers with a soft danity blush and sand tones to match up the bridesmaids dress colour.
The bridal party held formal round bouquets and the bride had some extra magic – wired individual gladioli florets to really make the bouquet a one off bespoke style (I couldn't resist!)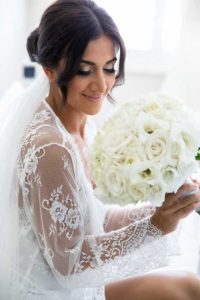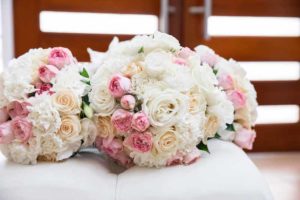 The church was filled with blooms with huge alter displays displayed on both sides and a personalised lambathes wreath to match for the traditional Greek ceremony.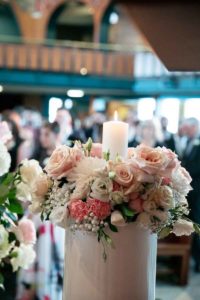 Now onto to the reception held at The Greek Club in South Brisbane. This was a BIG wedding we had 30 tables to design to bring the wow factor for the couple and their guests! We opted for an alternating look across the room with one table having a glass sleeved modern silver candle stand brought up from Sydney (by the team at Celebrating in Style) and the second table with huge modern silver stand with a massed domed of the brides most favourite flowers.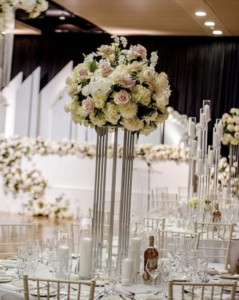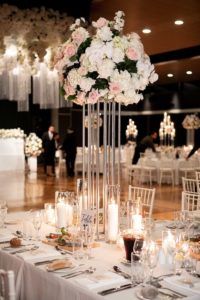 The bridal table is the main focus of the event so here went went all out! We teamed up withe the crew from Staging Creations to incorporate the shard back drop with flowers and a matching white acrylic custom table with a front step for us to be able to make a stunning bridal table hedge that cascaded down onto the floor massed with candle detailing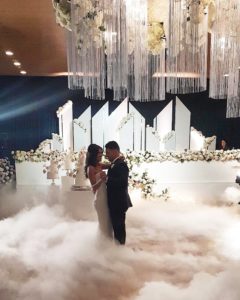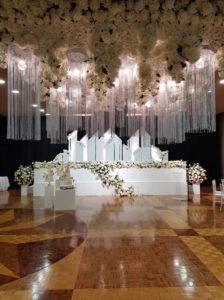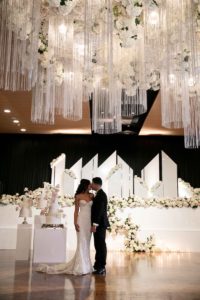 The cake, so not one but 3 stunning cakes sitting up proudly on plinth were designed by the very talented Frosted Indulgence cake designers, we worked with them to add flowers in a modern style adding in angles and some great lines with the flowers.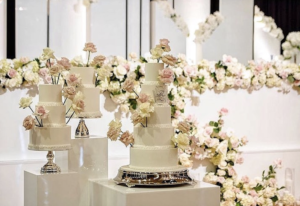 The overall result – LUXE GLAMOUR!
See some kitchen tea sneak peeks below too as promised!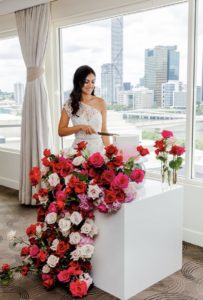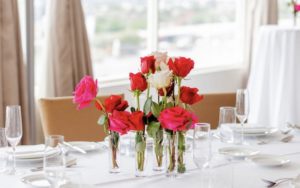 With lots of flower love!
Geraldine x